February 9, 2023
Futura Systems Names Chris Lahman Executive Vice President
Atlanta, GA. – February 9, 2023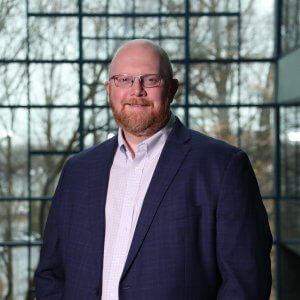 The Meridian Enterprise is pleased to announce the promotion of Chris Lahman to the role of Executive Vice President (EVP) of Futura Systems. Chris has acted as Interim EVP since last August, following the sudden passing of David Shaw. Previously, he served as Futura's Vice President of Product Management.
"Over the past 16 years, I have worked with so many different people who have encouraged and mentored me," shares Chris. "Today I have great faith in our products and our community, along with the confidence to move our Futura family forward. I am extremely grateful, and hope to do for others what so many have done for me."
"To lose a leader like David Shaw was devastating in so many ways," he continues. "It has made me a more empathic leader and helped me focus on our people, just as much as I focus on our work. That is a very important part of David's legacy and I hope he would be proud of the leader I have become."
In his new role, Chris will focus on completing several improvements to the core Futura products, with the goal of delivering something even better than the products our users love today. The rewrite process, he explains, is also a great opportunity to explore new applications and, eventually, new markets.
Chris will report directly to Meridian Cooperative's Chief Technology Officer, Heath Glass. "I am thrilled to have Chris join the development team in this new capacity," states Heath. "He is a collaborative leader who actively seeks creative innovation and understands the power of reaching across the Enterprise. His passion for technology is matched only by his commitment to Futura's users. Congratulations Chris!"
About Futura Systems, Inc.
Futura Systems provides enterprise GIS solutions to hundreds of distribution utilities across the United States. Through their utility-centric approach, Futura provides real-time integration with a wide variety of major utility CIS and Accounting software providers, empowering them to make informed decisions that improve their overall service to their customers. As an Esri Gold Business Partner, Futura software solutions are designed with powerful, user-friendly functionality compatible with several other popular GIS products. Futura Systems is a part of the Meridian Enterprise.